The best binoculars should provide observers with bright, sharp views, be appropriately priced for your budget and be reliable to use in all weathers and temperatures. No matter what they are used for — stargazing, tracking wildlife or even spotting planes and other vehicles during sporting events, the best binoculars should always deliver exceptional viewing quality in any situation.
When choosing the best binoculars for stargazing, there are some important features to consider. The best stargazing binoculars will have large objective lenses (the ones facing the stars) to let in as much faint starlight as possible. They will also provide strong magnification to make those tiny specks of light from deep space appear larger.
Some binoculars are so good for astronomy they can be a budget-friendly alternative to the best telescopes and still provide excellent night sky views. For this guide, we've searched through our extensive range of binocular reviews from our expert panel, where we've tested and rated models based on their performance and real-world use, not just ranked them based on the binoculars' numbers and specifications.
But if you need something more specific check out the best compact binoculars guide for something smaller or our best binoculars for kids page. Alternatively, if you need something to photograph the night sky be sure to read our best cameras for photos and videos or best cameras for astrophotography pages.
Best binocular deal July 2023
Celestron SkyMaster Giant 15x70 Binoculars
was $119.95, now $109.99 at Amazon

Get a great low price on these binoculars that are excellent for low light and long-range conditions. 15x magnifications make far away targets visible while a large aperture and objective lens allow a lot of light in for a clear viewing experience. You can also get the bundle with the Smartphone adapter.

Note: They are also on offer at B&H Photo and video with extra accessories but are back-ordered.
---
Best binoculars in 2023
Best binoculars 2023: Ranked
These binoculars are simply the best choice for skywatching, but they come with a higher price to match. They have excellent optics and feature optical stabilization technology found in Canon's expensive camera lenses. This stabilization is really useful when using them without a tripod, especially with their powerful 10x magnification, as it removes all the shakiness and gives the feeling of being on an invisible tripod.
The glass is identical to those used in Canon camera lenses, and it has the 'L' designation that distinguishes some of the best and most expensive lenses ever to be used with a digital sensor. You can expect sharp, bright, and stable views through these excellent binos.
As good as they are, these binoculars do have a few minor drawbacks. Due to the stabilization mechanisms and battery, they are quite heavy (1.1kg / 39.2 oz). They also have a premium price tag so will outprice some observers. While we've picked out the 10x42 pair as ideal for astronomy, there are alternatives in the range, including Canon 18x50 IS AW and Canon 15x50 IS AW models that are not quite as painful on the wallet.
In our Canon 10x42L IS WP binoculars review, we thought that even though they are pricey, they are almost perfect for hand-held astronomy, so we believe the cost is justified if you can afford it.
---
In our Nikon Monarch HG 10x42 review, we loved these so much that we found them hard to fault. The optics are top-quality and we found almost zero chromatic aberration. This is thanks to Nikon's multilayer coatings on all glass elements and the included Extra-low Dispersion (ED) glass elements. Because of their wide field of view and excellent inbuilt field-flattened technology, wildlife observers notably benefit from the image being sharp from edge to edge.
These binoculars have a slim design due to their roof prism design, making them easy to carry in an overcoat pocket or hang around the neck. Despite weighing 680g, we found them comfortable to use for extended periods, thanks to the plush and comfortable neck strap.
The secure sealing and nitrogen-purging in the binos make them completely waterproof and fog proof, so you won't have to worry when using them in bad weather. That means you can move freely inside and out without missing a beat (or an observation) — especially helpful for stargazing.
They aren't cheap due to their outstanding optics and quality finish, but if you can afford them, we believe they offer excellent value.
---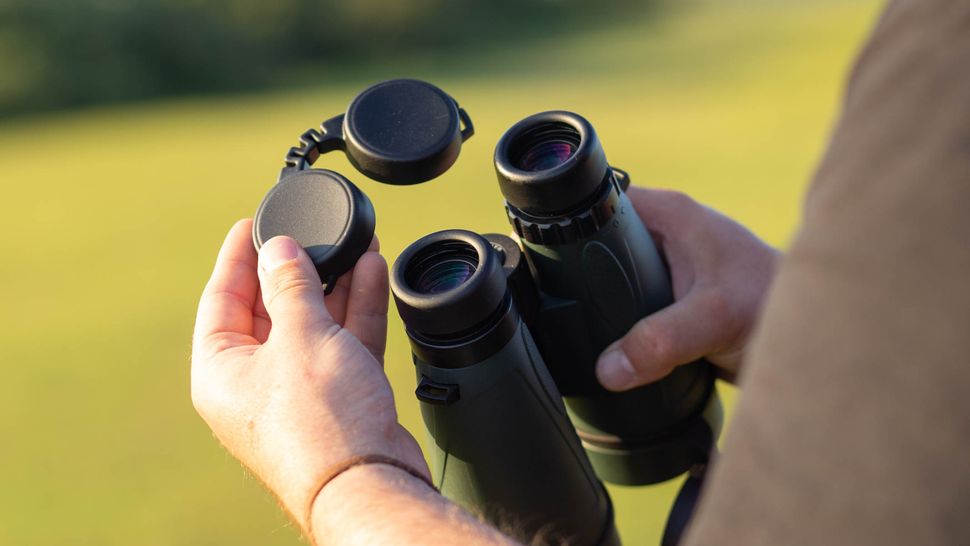 The Celestron Nature DX 12x56 binoculars were created with the outdoor enthusiast in mind and are an excellent purchase if you enjoy observing wildlife, bird watching, and astronomy. You essentially get a mid-range pair of binoculars with a beginner price tag. The binoculars are highly affordable and adapt themselves nicely to stargazing thanks to their 12x magnification and wide 56mm objective lenses. Plus, those that wear eyeglasses can take advantage of the 16mm eye relief as well.

You can use these binoculars in any weather or location, thanks to their complete weather sealing. They are also fog-proof due to being nitrogen purged. With BaK-4 prisms and multi-coated lenses, you can expect good optics that are similar to more expensive models.
In our Celestron Nature DX 12x56 review, we especially liked the close (10 feet) focus on these binoculars, allowing for backyard bird spotting and up-close wildlife watching. Binoculars without close focus wouldn't allow for this type of use. We even liked them so much, we bought ourselves a pair.
---
In our full Celestron TrailSeeker 8x42 binoculars review, we thought the binoculars struck a great balance between quality, affordability and portability — especially for skywatchers.
The TrailSeeker 8x42 from Celestron offers a slightly different view from the norm because of the amount of light their 42mm apertures collect. Their marginally lower magnification also gives you a wider field of view. The Earth's moon will appear slightly smaller when compared with 10x50 binoculars. But compared to other binoculars we've tested, this one's optical system and lens multi-coatings offer a sharper, brighter view.
These binoculars are great for moving between different temperatures, like going from a warm indoor environment to the cold outdoors on a frosty night. They won't fog up, thanks to their nitrogen purging and waterproof design. This means you can use them for a long time without any issues while observing.
When using the Celestron TrailSeeker 8x42 binoculars, you'll notice that there is very little false color. False color, also called chromatic aberration, appears as a purple or blue halo around bright objects. In our review, very little could be seen in the field of view, especially when observing the lunar limb.
Although the TrailSeeker 8x42 binoculars only weigh 23.1 oz (655g), we found that during long periods of observation, our arms started to shake, making it difficult to maintain a steady hand-held view. If you're prone to trembling arms or will be using these for long sessions, we advise pairing them with one of the best tripods for astrophotography or the best travel tripod.
---
These are affordable skywatching binoculars that would be ideal for anyone just starting out who wants to get the most for their money. While there are some true wins to this model, there are a few reasons why they're cheap, and we discussed them in our Celestron UpClose G2 10x50 binocular review.
The view they offer is very reasonable, and we could just make out three stars in the Trapezium Cluster, which is located near the heart of the Orion Nebula (Messier 42). In order to tease out the fourth bright star in this star-forming region, you would need greater magnification.
The moon looks stunning, easily fitting in the field of view and with only a slight degree of false color. In July 2020, the UpClose G2 10x50 binoculars served as an excellent optical aid for studying the naked-eye comet C/2020 F3 (NEOWISE).
In our opinion, these binoculars are an excellent option for those on a budget and starting with stargazing or exploring. They are lightweight and ideal for trekking. However, we did notice a couple of downsides during our review. First, they require collimation, which means adjusting the alignment of the lenses. They are also prone to fogging in certain conditions.
---
The Celestron SkyMaster line of binoculars offer superb views for a reasonable price from a trusted brand with a solid reputation. This is the case for the 15x70 'giant' binoculars. They are a sturdy pair of binoculars with a bit of bulk, and users will be pleased with the quality of views provided for the price range.
At 11-inches (280 mm) in length and weighing 3 lbs. (1.36 kilograms), we found in our Celestron SkyMaster Pro 15x70 binocular review that they certainly have a lot of heft, but using them handheld isn't impossible. You'd be most comfortable if you mounted them to a tripod. However, because of their high magnification, the views of the moon are breathtaking. We were especially impressed by the stereoscopic viewing of the lunar surface.
Despite the larger 70 mm objective aperture, the higher magnification of 15x reduces the apparent field of view to 4.4 degrees, compared to typical 10x50s or 12x50s that provide a degree more.
However, the SkyMaster 15x70 binoculars offer a significant advantage. They gather more light and provide higher magnification, making things that appear unclear on weaker binoculars stand out more. Although there is some softness and blurring at the edges of the field, this is common in affordable models. If you wear eyeglasses, you'll be pleased to know that the SkyMaster 15x70 has a comfortable 0.7 inches (18 mm) of eye relief.
---
The Opticron Adventurer II WP 10x50 binoculars stand out as a great choice for people who wear glasses, thanks to their excellent eye relief of 0.7 inches (17.78mm). One common issue for glasses wearers is the difficulty of getting close enough to the eyepieces for a clear view. They might have to remove their glasses, which obviously affects their vision. Fortunately, with these binoculars, you won't face that problem, as the eye relief ensures optimal comfort even while wearing glasses. Additionally, the twistable eyecups can be adjusted to provide even more comfort.
While testing these binoculars in our Opticron Adventurer II WP 10x50 review, we thought that although the binoculars lacked a premium feel to the touch, the optics are excellent and provide excellent contrast, showing all the usual celestial subjects well.
Open star clusters like the Pleiades (Messier 45) in Taurus (the Bull) and the Beehive (Messier 44) in Cancer (the Crab) were picked out easily and could be seen with impressive clarity, while bright double stars — particularly Mizar and Alcor in the constellation of Ursa Major (the Great Bear) — resolve very well under the magnification.
During our hands-on review, we found that these binoculars' light weight of just 1.7 lbs. (0.77 kg) makes them incredibly comfortable to hold for extended periods of time when observing.
---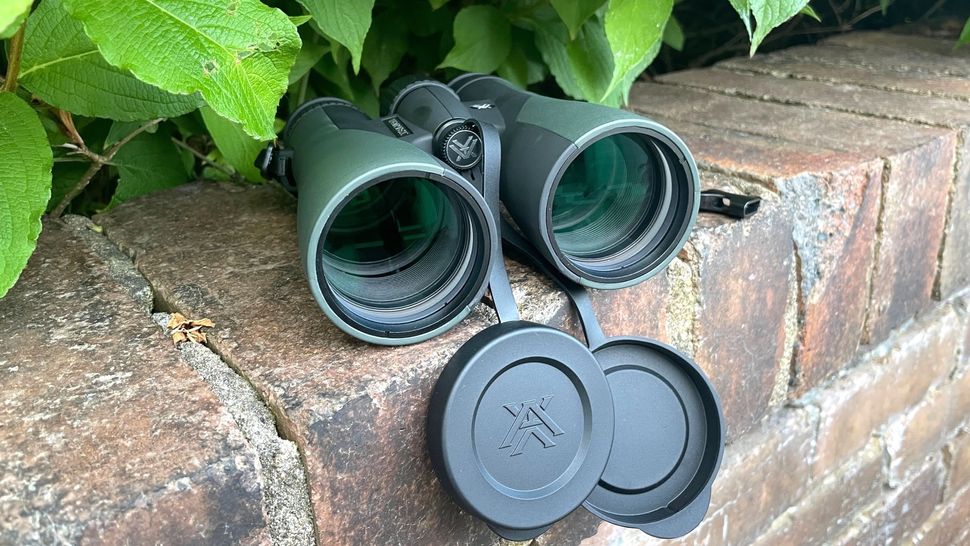 Thanks to the wide field of view, you'll be hard-pressed to find better than the reliable and robust Vortex 10x50 Crossfire HD for wildlife watching and occasional stargazing.
The image is crisp and clear, with stars appearing as perfect pinpoints of light. It is possible that you might notice some slight color distortion while observing brighter objects, but that's not uncommon for this price range. That being said, the Vortex Crossfire HD 10x50 produces a great balance between brightness and sharpness across the field of view. In our review, we only noticed a tiny drop-off towards the very edges of the fields of view.
The standout feature of these binoculars is their exceptional build quality. They are expertly crafted with a sturdy focusing knob that can be easily adjusted, even when wearing thick gloves in cold weather. The eyecups are comfortable and twistable, allowing you to adjust the eye relief to 17mm for a personalized viewing experience. If you're an astronomy enthusiast who loves exploring nature and traveling, you'll appreciate the lightweight design of these binoculars, weighing only 1.89 lbs (0.86kg).
Although these binoculars come with a harness, we realized during our Vortex 10x50 Crossfire HD binocular review that the padded case forms part of the harness so you can't use one without the other which is a little frustrating.
---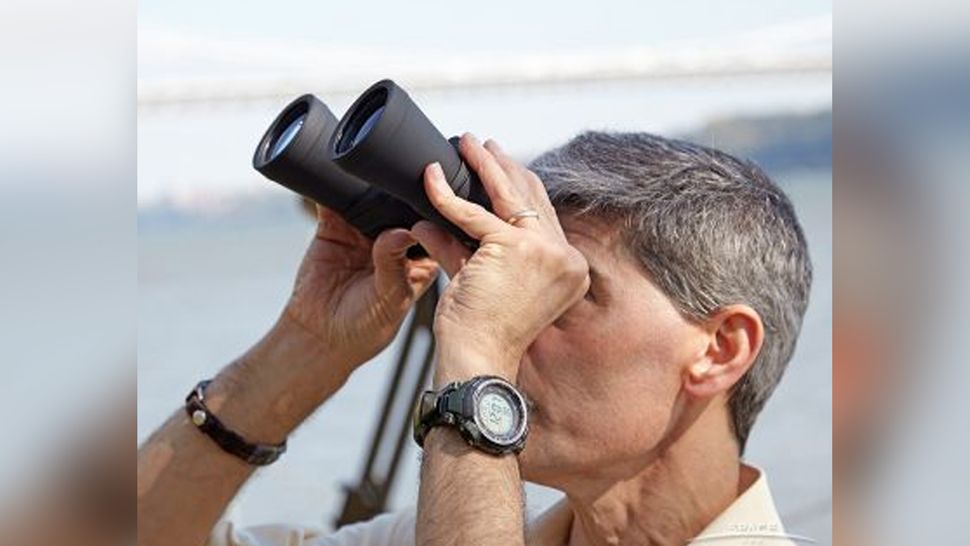 The 7x magnification and 50mm objective lenses make the Celestron Cometron 7x50 perfect for kids (see them featured in our best binoculars for kids guide). It is a known fact that children have better night vision than adults, meaning they do not require high-end binoculars to see the same amount of light that an adult would with a more powerful pair.
When it comes to children using binoculars, it's important to keep in mind their limited ability to hold them steady for long periods of time. That's why it's best to opt for a lightweight and comfortable option. This will not only make it easier for them to use but also prevent them from getting tired quickly. Alternatively, consider mounting them on a tripod.
Having reviewed the specs on paper, weren't too excited about reviewing this pair of binoculars, but to our pleasant surprise, in our Celestron Cometron 7x50 review, we ended up loving them. They are an inexpensive way to enter the world of sky-watching, and if it doesn't work out, the risk you made was $40.
These compact binoculars combine a 7x magnification with a large 50mm objective lens, allowing for a good balance of size and light-gathering capability. While they are strong, durable, lightweight and compact, they aren't waterproof, which is something we would typically expect at this affordable price point.
---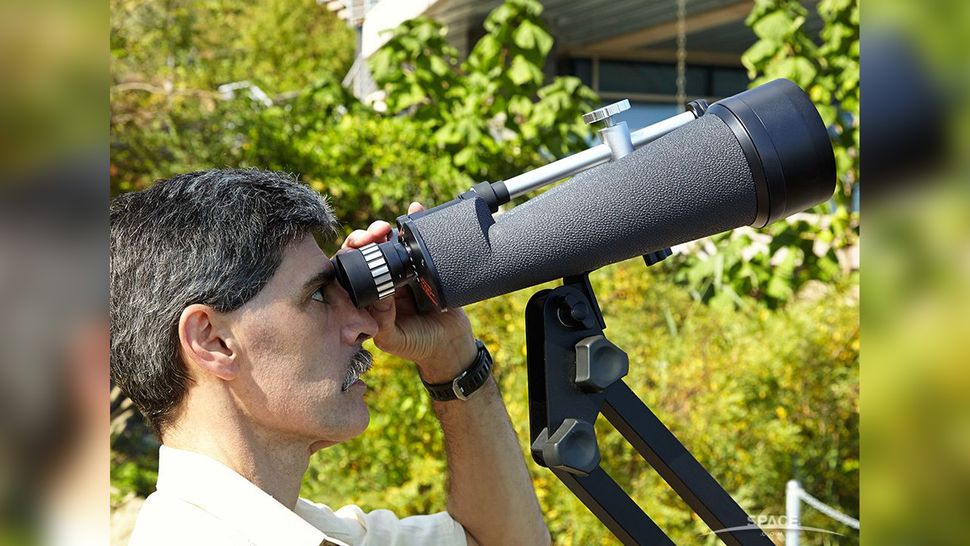 Touring the heavens with this pair of telescopes is like using two four-inch (100 mm) refractors with added 25x magnification as if a mad scientist had blended them together using an experimental teleporter.
The Celestron SkyMaster 25x100 binoculars are a worthy investment. Their tough, rugged, reliable build means you'll enjoy many years of stargazing, as you can read in our full Celestron SkyMaster 25x100 review.
They're not for everyone and will definitely need support. For optimal stability, a heavy-duty tripod is recommended due to the significant size and weight of 15.3 inches (388.62 mm) in length and 8.75 lbs (almost 4 kg) — check out the Manfrotto 190 Go! tripod. The eye relief is decent at 0.6 inches (15.24 mm), but this may be a little close for glasses wearers.
Under a dark and clear night sky, these binoculars allow you to see some amazing details. You can just make out the atmospheric belts of Jupiter, and when you sweep through the Milky Way, especially in the Sagittarius region, you'll be in awe of the dense star fields and the impressive Sagittarius Star Cloud (also known as Messier 24). The binoculars have excellent optics with bright and clear images, thanks to their multi-coated lenses. In fact, back in 2015, we selected them as our Editor's Choice for large astronomy binoculars.
---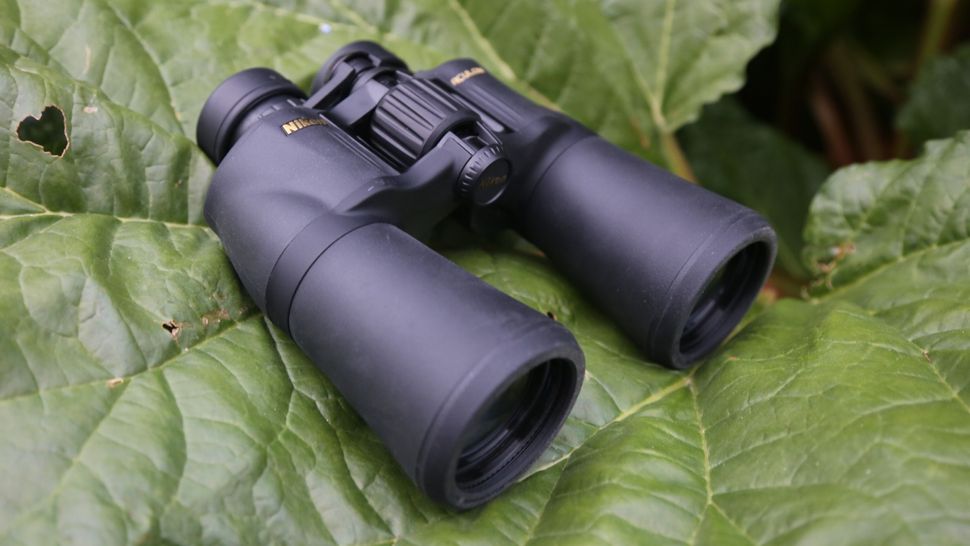 The aspherical eyepiece lens built into the Nikon 10x50 Aculon A211 binoculars works like a charm and eliminates any kind of image distortion. With the optical system, it's easy to spot the usual nighttime binocular subjects, such as Jupiter's disk and the crescent moon. The optical system also reveals crisp shadows at our natural satellite's terminator. Meanwhile, the rubber armor on the exterior allows for a firm, shock-resistant grip that makes the binoculars pleasant and comfortable to hold.
The binoculars have a wide field of view, measuring about 6.5 degrees. This makes them great for observing events like the moon passing through or near a large star cluster, such as the Pleiades in the Taurus constellation. When looking through these binoculars, you'll see sharp, pinpoint stars throughout the entire view, with great contrast.
The Aculon A211s have a minor drawback of having a close eye relief of only 0.5 inches (16.51mm), which could pose a challenge for those who wear glasses, although it is still manageable.
In our hands-on Nikon 10x50 Aculon A211 binoculars review, our verdict is that while we think they are on the bulky side if you plan on taking them traveling or backpacking, they are bright and sharp enough to use for entry-level astronomy. They are great value for money with good optical quality.
---
These are fantastic entry-level binoculars that punch well above their modest price tag. They are new to the market and hold their own against more expensive binos because, as we found during our Nikon Prostaff P3 8x42 binocular review, the optics are fantastic for the price. The eye relief is very long at 20.2mm and the eyecups are adjustable — this is excellent news for anyone who wears glasses and makes for a comfortable viewing experience for all.
These binoculars are designed to be lightweight and durable. They are made from strong fiberglass-reinforced polycarbonate resin, and the non-slip rubber coating makes them comfortable to hold. You don't have to worry about them breaking easily if they are accidentally dropped or knocked, thanks to their shockproof design. They are also waterproof, so you can use them even in wet conditions, as well as being fog-proof, which is quite impressive considering their affordable price.
Rotating the focus wheel is a breeze, and it offers just the right amount of resistance, even when wearing thick gloves.
Although these binoculars lack a tripod adaptor, their 8x magnification and lightweight body (weighing only 572g) should make them easy to handle without one. They are a great choice for handheld nature spotting or taking on your travels without tipping your luggage allowance over the limit. Still, we wouldn't necessarily recommend them for hours of exploring the night sky.
---
The Celestron Skymaster 8x56 binoculars won Space.com's Editor's Choice award for Best Medium Binoculars for Astronomy way back in 2014 thanks to their affordability and versatility, but we still think they are worth the cash today. You can get yourself a pair for around $250. They weigh slightly over 1kg, so while they are not the lightest, they are still manageable to hold for extended periods without being too heavy. If you want to mount them on a tripod, you will need a tripod adaptor.
The binoculars are designed to withstand different weather conditions without any issues. They are filled with nitrogen and sealed to prevent condensation or fogging, which means you can use them for long periods without any problems. The eye relief is generous, measuring 18mm, which makes them comfortable for people who wear glasses. The field of view, which refers to the width of the area you can see, is satisfactory but not exceptional at 5.8 degrees.
During our hands-on Celestron SkyMaster 8x56 review, we thought they were not only suitable for astronomy but perform well across a wide range of observation environments such as looking for birds, other wildlife and spotting athletes at the sports game.
---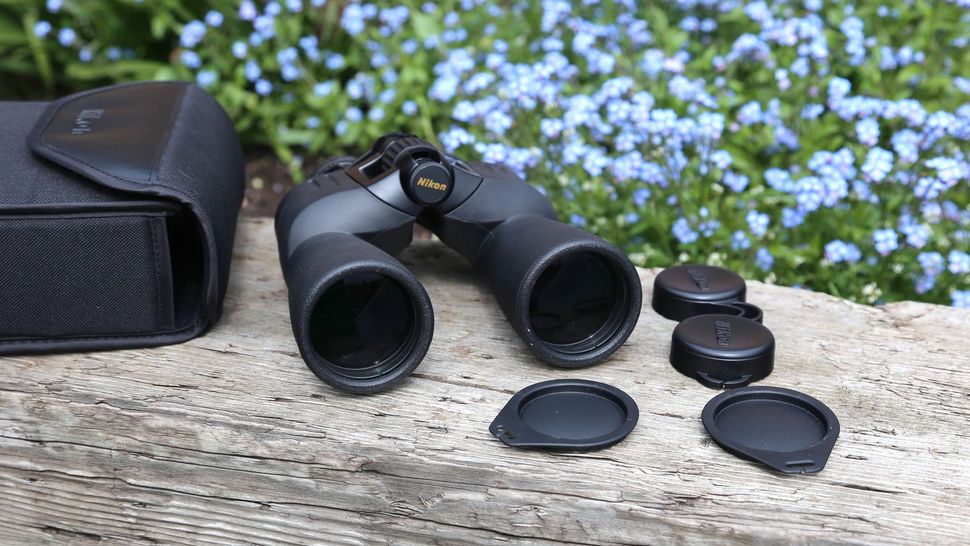 The Nikon Action EX 12x50 binoculars are a good alternative to standard 10x50 binoculars because they have a larger 12x magnification but the same 50 mm aperture. The construction is excellent, with comfy rubber grips and a big focus knob. Eye relief is 0.51-in (13 mm).
Since you're magnifying the same amount of light collected by 10x50s, a higher magnification usually means images are less bright. Despite the loss of brightness, the Action EX 12x50 is equipped with multi-coated lenses and high-refractive-index prisms to ensure that the decrease in brightness isn't noticeable. What we found in our Nikon Action EX 12x50 binoculars review is that you get great, high-contrast images. With its rings not resolvable on their own, Saturn was a challenge for this pair of binoculars. However, skywatchers will detect definite ansae, or the extension of the rings at either side of the planet, giving Saturn an oblate shape.
When looking at stars through these binoculars, the images are sharp and focused in the center of your view. However, as you move towards the edges of the 5.5-degree field of view, there is some curvature, which can be a bit distracting when you're observing the Milky Way or larger star clusters. Nonetheless, we think that overall the Skywatcher Action EX 12x50 provides a fantastic experience for stargazers.
The Nikon Action EX 12x50, weighing in at 2.3 lbs (1.04kg) is too heavy for long bouts of stargazing. The higher magnification will enhance any image wobble, so we advise using a tripod.
---
These are some of the finest handheld binoculars you'll find for stargazing and wildlife observation. The Extra-low dispersion (ED) objective lenses produce aberration-free sharp images.
For our Celestron Nature DX ED 12x50 review binoculars, we took them to several events, partly because they are lightweight and compact so can be carried easily in their padded case. We tested them at a motor race and were delighted with the bright and sharp views, even at dusk.
When we used these binoculars at night, we were really impressed with how well they performed. We didn't see any color distortion, and the Pleiades star cluster looked sharp and clear throughout the entire view, with just a slight decrease in clarity towards the edges.
The only thing we weren't impressed with was the quality of the eyecups, which are just average and don't provide much relief, especially for people who wear glasses. However, eyecups aside, the Nature DX ED 12x50 binoculars are built with excellent quality and have durable rubber armor that protects them from water and impacts.
They sit just below the $300 mark, which is reasonable and will keep stargazers and nature spotters entertained for years to come.
---
If you're ready for a completely different kind of binocular experience, put a pair of the Vixen SG 2.1x42 to your eyes. You'll see the same night sky as the naked eye, only zoomed in 2x.
Why would anyone buy a pair of binoculars with such a low magnification? If your goal is to glimpse deep-sky sights such as galaxies or even get a close-up of Jupiter's largest moons, then the Vixen SG 2.1x42 are not for you. However, if identifying constellations and generally getting a really steady, wide-eyed picture of the cosmos is what you're after, you'll love the Vixen SG 2.1x42.
These binoculars have impressive build quality and offer a captivating 3D effect thanks to their five multi-coated lenses. However, there are a couple of downsides to be aware of. First, there can be some blurriness around the edges of the view, which is a result of their basic Galilean design. Additionally, the lens caps can easily come off and may be easily misplaced.
In our Vixen SG 2.1x42 review, we concluded that they are a niche choice for stargazers who are looking for something a little different, they let a lot of light in and have an immersive 3D depth.
Due to their lack of eye relief and rubber eyecups, we wouldn't necessarily recommend them for people who use glasses, but if you're looking for a set of low-power, highly portable and simple-to-adjust binoculars, these could become your new best friend.
Note: The Vixen's are currently out of stock in the US, but in the meantime a virtually identical design the SVBONY 2.1x42 binoculars are available
---
Binoculars FAQ
Binocular FAQ answered by
Binocular FAQ answered by
Gemma is a contributing writer to Space.com, Live Science, science and space magazines How It Works and All About Space, history magazines All About History and History of War as well as Science, Technology, Engineering, Arts and Mathematics (STEAM) kids education brand Future Genius. She is the author of several books including 'Quantum Physics in Minutes', 'Haynes Owners' Workshop Manual to the Large Hadron Collider' and 'Haynes Owners' Workshop Manual to the Milky Way'. She holds a degree in physical sciences, a Master's in astrophysics and a PhD in computational astrophysics. She was elected as a fellow of the Royal Astronomical Society in 2011. Previously, she worked for Nature's journal, Scientific Reports, and created scientific industry reports for the Institute of Physics and the British Antarctic Survey.
Which binoculars are best?
You may ask yourself which types of binoculars are best and while it's a tricky question to answer, binoculars come in two kinds: Porro-prism and Roof-prism. To look at, the Porro-prism designs have the most common look of any binocular. They feature a gradual and stepped-up appearance, forming part of the housing which includes two exit pupils, eyecups, central focuser, objective lenses and optical system. You'll find that these designs are best for observing due to their affordability.
Meanwhile, the Roof-prism binocular boasts a "H"-shaped appearance that lends well to a smaller, and lighter-weight design. These instruments have complicated optical designs, which means that observers need to spend a substantial amount of money to own a reliable binocular of this type. Unlike the Porro, a good Roof-prism binocular isn't ideal for those on a budget, or casual observers.
What do binocular numbers mean?
Examine any binoculars and you'll discover that one of several combinations of numbers separated by a 'x' will be visible — for example, 7x40, 10x50, 8x40 and so on. These numbers, which are often located close to the eyepieces, tell you the magnification and aperture of the optical system. For example a 10x50 binocular has a magnification, or 'power' of 10x with front lenses with a diameter of 50mm. It's these numbers that reveal which objects you can observe by telling you how much you can magnify them by and how much light your binoculars can collect.
The larger the aperture, the easier it will be to see fainter night sky targets such as galaxies and nebulae. As a rule of thumb, and under decent observing conditions, 7x35 binoculars will reveal a hundred thousand stars and 10x50s will show the finer details of the Moon, planets, Andromeda Galaxy (Messier 31) and the Orion Nebula. Larger, heavier binoculars such as 20x80s and 20x100s, will open up a wealth of objects such as the fainter spiral galaxies Messier 65 and NGC 3628 and a selection of globular clusters and star-forming regions.
Some models of binocular will have their field of view printed on the barrels or somewhere close to the magnification and aperture. Given in degrees, this number tells you how wide you can see when peering through the eyepieces. The larger the number, the wider the scene. Ten degrees will allow the Big Dipper's bowl to fit comfortably in your field of view.
Which is best BaK-4, BK-7 or K9 binoculars?
As you shop around for your next piece of observing kit, you'll come across the terms BaK-4, BK-7 and K9. These refer to the formulations of glass found in the prisms of spotting scopes, binoculars and monoculars.
BK-7 and K9 glass can be found in cheaper products, and refer to borosilicate formulations. While used across a wide range of brands, this glass is said to lead to problematic exit pupils — in particular the field of view isn't perfectly round, which can leave the observer with poor clarity around the edges of their chosen target. We must stress that this isn't true for all pieces of kit, so we advise giving your chosen binoculars a test before parting with your cash.
While a touch more expensive than BK-7 and K9 prisms, the BaK-4 — or barium crown glass — is preferable for binoculars. With this type of prism you'll achieve a higher quality of image, particularly when combined with a well-made optical system.
Multi-coated vs fully-coated binoculars
Without coatings on the optics of binoculars, images would be blurry and lack contrast since light transmission would be poor, glare would become prevalent and light would be lost through internal reflections. A poor, disappointing view would be had by the observer.
It's easy to find out if your binocular lenses feature a coating: you'll see an even dark appearance when you peer through the barrels, while the glass will feature a bluish or greenish tint thanks to a layer of magnesium fluoride. If you see a brownish tint, then your optics are coated with calcium fluoride. Both offer the same outcome — they halt the reflection of some wavelengths, allowing more light to enter your eyes through the exit pupils.
Binoculars largely come in two varieties when it comes to coatings: they're either fully coated or multi-coated. In both versions, all lenses, glass surfaces and prisms feature at least one layer of magnesium fluoride or calcium fluoride. Binoculars with multi-coated optics are the most superior kind you'll be able to find on the market, with at least one of the surfaces featuring several layers of anti-reflective compounds.
Which binoculars are best for astronomy?
Comparing binoculars, you'll discover that those used for traveling and sightseeing will have smaller apertures, are lighter and less expensive than those used for astronomy. This is because for a decent observing experience in the dark, the best binoculars for stargazing must have an optical system that is able to collect as much light as possible to pick out those faint targets. In other words the larger the aperture, the better. We advise purchasing at least 10x50 binoculars for comfortable views of a selection of targets; they're light enough to hold for long periods of time, while offering good views of a selection of night-sky targets. The larger the binocular, the more you'll be able to see, but be warned: They'll also be heavier and will require a tripod for steady sights of the heavens.
It isn't just the aperture that you need to be mindful of. The quality of the optical system is an essential feature to consider for high-definition, excellent contrast and crystal-clear views. You'll discover two major kinds of binoculars at reputable stockists: the porro-prism and roof-prism. Choose the Porro-prism design for a reliable and affordable piece of kit, making sure that the lenses feature a coating and the glass is of decent quality (we can vouch for multi-coated optics and BaK-4 prisms). If you wear spectacles, we advise choosing binoculars that offer eye relief of at least 14 to 15mm.
Whichever model you decide to go for there are plenty on the market to suit a variety of budgets, observing interests and level of skywatcher.
How we test the best binoculars
To guarantee you're getting honest, up-to-date recommendations on the best binoculars to buy here at Space.com we make sure to put every binocular through a rigorous review to fully test each instrument. Each binocular is reviewed based on many aspects, from its construction and design, to how well it functions as an optical instrument and its performance in the field.
Each pair of binoculars is carefully tested by either our expert staff or knowledgeable freelance contributors who know their subject areas in depth. This ensures fair reviewing is backed by personal, hands-on experience with each binocular and is judged based on its price point, class and destined use.
For example, comparing a pair of 25x100 mammoth binoculars to a compact pair of 8x25s wouldn't be appropriate though each binocular might be the best pick in their own class.
We look at how easy they are to operate, whether eye relief can be adjusted for spectacles wearers, if a binocular comes with appropriate accessories or carry bags and suggest if a particular set of binos would benefit from any additional kit to give you the best viewing experience possible.
With complete editorial independence Space.com are here to ensure you get the best buying advice on binoculars, whether you should purchase an instrument or not, making our buying guides and reviews reliable and transparent.